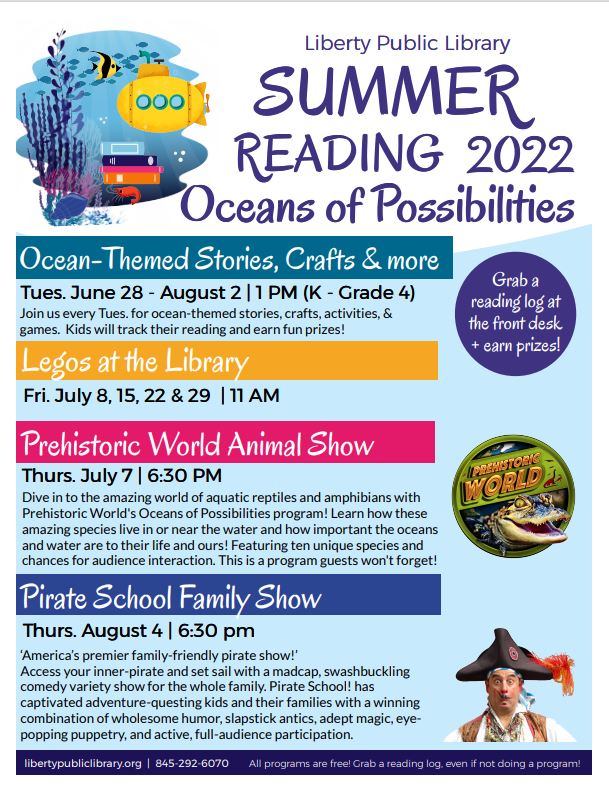 Liberty Public Library Offers Free Summer Reading Programs for all ages
The Liberty Public Library is excited to announce "Oceans of Possibilities" of programming this summer and lots of chances to win prizes for all ages beginning June 27th. Keeping your child engaged with reading and learning throughout the summer is vitally important for brain development and to prevent the "summer slump." The library has lots of fun activities to keep them coming back! All activities are free and open to the public. Reading logs and bingo boards will be available at the front desk for those who are unable to make it to our events.
On Mondays at 1 pm from June 27 to August 1st youth in grades 5 – 12 are invited to meet in the library for games, art projects and other activities to stay connected with friends. Teens and adults are invited to participate in our "Book Bingo". Complete various activities on the bingo board in order to earn raffle tickets for chances to win great prizes. Prizes include: free ice cream cone coupons, bicycle, rollerblade, or snowshoe rentals from Fortress Bikes in Hurleyville, NY, or a $30 gift card to Dunkin' Donuts. Bingo boards must be turned in no later than Friday Aug. 12.
On Tuesdays at 1 pm from June 28th through August 2nd elementary-aged kids are invited for "Oceans of Possibilities" featuring ocean- themed stories, crafts, games, outdoor activities and more. Kids will keep track of their reading (or listening) to earn prizes throughout the summer. (Siblings are welcome, too) We also have summer reading logs available at the library for kids who are unable to attend our programs. Stop by anytime the library is open to pick up a reading log and instructions on how to earn prizes while reading.
On Wednesdays at 11 am from June 29th – Aug. 10th toddlers and preschoolers are welcome to join our summer session of story time. We have lots of great ocean-themed stories, crafts and music planned for your child(ren). Bringing your child to story time is a great way to develop their pre-reading skills and make new friends. For ages 2 to 5 years (Babies and older siblings are welcome as well.)
Every Friday in July (July 8 – 29) at 11 am "Legos at the Library" will meet for elementary aged kids. Kids will use their imaginations and building skills to make some unique Lego creations each week. (Siblings are welcome, too)
We also have two free evening family shows scheduled. On Thursday, July 7th at 6:30 pm the Prehistoric World Animal Show will be at the library with live animals. Families are invited to dive in to the amazing world of aquatic reptiles and amphibians. Attendees will learn how these amazing species live in or near the water and how important the oceans and water are to their life and ours! This show features 10 unique species of live animals and chances for audience interaction. This is a program guests won't forget. (ages 4+)
On Thursday, August 4th at 6:30 pm, the Library will present David Engel's Pirate School: 'America's premier family-friendly pirate show.' We invite our guests to access their inner-pirate and set sail with a madcap, swashbuckling comedy variety show for the whole family. Pirate School has captivated adventure-questing kids and their families with a winning combination of wholesome humor, slapstick antics, adept magic, eye-popping puppetry, and active, full-audience participation. (ages 4+)
All programs are free! Want to stay informed of events all summer long? Log on to our website at https://www.libertypubliclibrary.org and sign up for our email news events, or like our Facebook page. To sign up for any programs or for questions, call us at 845-292-6070 or email us at lib@rcls.org. The library hours are: Mon, Weds, Fri 10 am – 5 pm; Tues/Thurs. 10 am – 6:30 pm (7:00 pm effective July 5th); Sat. 10 am – 4 pm.