Catskill Animal Rescue Collection Drive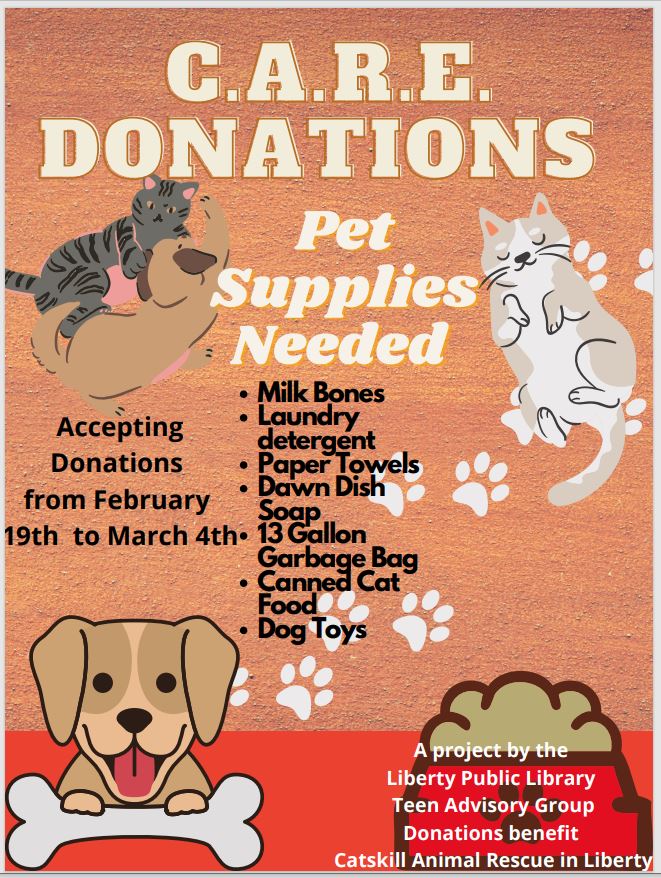 The Teen Advisory Group of the Liberty Public Library has put together a fundraiser for donations for the animals in Catskill Animal Rescue or C.A.R.E. This group of teenagers has been involved in all aspects of the collection drive, from making phone calls to creating flyers and press releases.
C.A.R.E is Liberty's local animal shelter, and we are requesting that people please donate Milk Bones, laundry detergent, paper towels, Dawn dish soap, 13 gallon garbage bags, canned cat food, and dog toys. There will be boxes for the donations placed in the main lobby of the Elementary, Middle, and High School, as well as the Liberty Public Library.
The people at C.A.R.E would appreciate the donations very much, because having them allows them to continue the care and work they have been putting into the animals. For more information about C.A.R.E go to catskillanimalrescue.net
These donations will start February 19th and end March 12th. Items can be dropped off at the Liberty Public Library at 189 North Main Street, Liberty, NY 12754 during the library's open hours: Mon/Weds/Fri 10 am to 5 pm; Tues/Thurs 10 am to 6:30 pm; and Saturday 10 am to 4 pm.